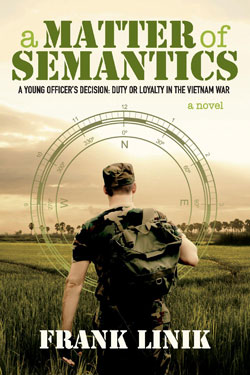 Amazon Reviews
Alicia S.
5 Stars
It's more about the people.
This book takes place during the Vietnam war. It was a book club selection for me. This war happened in my lifetime. I appreciated that this book was more about the relationships and what was going on in the soldiers minds than it was about the actual war. This was a good read.

Queen MAB
5 Stars
A friend recommended it to me
I was in college during the Vietnam War, but I had never read anything about it. In fact, I had never read a book about war before reading A Matter of Semantics. A friend recommended it to me, so I gave it a shot (no pun intended.) I found the characters compelling, especially Bill Brandt, the protagonist. The author's experience as an Army Ranger was evident throughout the book, but I appreciated that there was no gore in the book. I found A Matter of Semantics a compelling read, and I think both men and women will enjoy it.


Amazon Customer
5 Stars
It was a good read. Here are some of the items that I liked:
1. Great ending
2. Technical details of establishing a perimeter, blocking moves, etc. I could understand the "whys" of these actions.
3. The language was appropriate – no unexplained military jargon.
I would read another book that you write. You held my interest throughout and I found myself reading for long periods of time because I wanted to see what happened next.

Mary M
5 Stars
A Fine Tale and an Accurate Accounting of Men and of War

The author was classic in many ways: 1) he left the reader wanting more; 2) he humanized a most inhuman endeavor; 3) he informed, educated & entertained.

To paraphrase the great Persian prophet, after this read, "I did not leave by the same door I entered."

K.S.W.
5 Stars
This novel gave me some understanding of what it was like to be there.

As a child of the 60's, I have very little knowledge about the Vietnam war. This novel gave me some understanding of what it was like to be there, as well as the moral dilemma faced by soldiers fighting there. I have family members that served during the war, and it is still too painful for them to talk about it. The main conflict in the story is about the young soldier having to make decisions about whether to follow the orders he is given exactly as given or to try and find a way to protect the men under his command without directly defying his commander. This is a dilemma that is not specific to Vietnam but can arise in any chain of command and the way the soldier handles it is admirable to me. The book makes me want to continue learning more about this dark period of American history. Definitely a good read and I hope that the author writes another book to let us know what happens to the soldier in the next chapter of his life.

R.P.D.
5 Stars
Thanks for a great read

The author knew his subject...having personally experienced Nam. Some times I didn't understand the military lingo, this not being my normal genre, but because of it, it was realistic. I wanted to read a book about this era and this was perfect. I have always wondered, having lived through that time frame, if those who served over there, enlisted as well as officers, ever truly questioned orders or felt conflicted. I understood the Lieutenant and felt his angst. Its a great book for anyone who cares to appreciate what our troops did for us in that ugly war. I highly recommend this book.
Vietnam Veterans of America Review
Frank Linik's writing has appeared in several publications. A chapter of his first novel, A Matter of Semantics: A Young Officer's Decision: Duty or Loyalty in the Vietnam War(BookBaby, 292 pp., $14.99, paper; $3.82, Kindle) was published in the literary journal Innisfree as a short story.
The author, who served as an officer with the 173rd Airborne Division in Vietnam in 1968-69, says that his book is a work of fiction and that the characters, incidents, and dialogue are drawn from his imagination and are not to be construed as real. He admits, though, that the incidents he portrays are based on his experiences and those of other infantry lieutenants he knew and that the demands of storytelling caused him to craft a book that explores the impact that fighting in a war has on individuals.
Linik thanks his main character, Bill Brandt, "who led me down paths I never expected to write about and created a novel." He also thanks the three fine battalion commanders and two captains under whom he served in Vietnam. He goes one step further and notes that he was honored to have served with fine enlisted paratroopers as a platoon leader. As his characters say in the book over and over, "Airborne!"
The book begins with Bill Brandt's first night in Vietnam in Long Binh where he and the rest of the men being in-processed come under mortar attack. Linik does a fine job describing what it was like to experience such an attack for the first time. He and the others seek the safety of a nearby bunker, and try to help a wounded man who drowns in his own blood. Brandt's war has begun.
Soon we learn about the Inspector General's role in the war and are told what REMFs are. Indian Country is also presented to us, as are ham and lima beans c-rations in all their loveliness. And we are told that this is not a war, but a word game. But, of course, it is a war and the word-game aspect of it gets a lot of people killed.
Early in the book we find out that Brandt was an English major at Virginia Military Institute and studied military history as well. That helps explain why this novel is so well written and organized.
The entire novel was a pleasure to read, even though I've read hundreds of in-country Vietnam War infantry novels and this one is not drastically different from the others—except in quality. I was grateful for the elegance and high quality of the writing.
A Matter of Semantics is self-published, and now I would like to complain about that. There should have been a publishing company eager to accept this fine novel. It is a shame that there was not.

In every way this novel stands head and shoulders with the best books written about the American war in Vietnam. Thanks to Frank Linik for writing it. I read it all in one day with great pleasure.